Educationist from Burhanpur MP, Anand Prakash Chouksey, gifted his wife a louse which is a replica of the Taj mahal. Anand also owns hospitals and schools and he built Taj Mahal looks-alike house near his school premises and gifted it to his wife Manjusha Chouksey.
Anand Chauksey said "The house resembling the Taj Mahal is just 1/3rd of the world-famous historical monument of Agra, which was visited by me and my wife three years back for inspiration before starting this house. We studied architecture closely and asked engineers to take note of the structural details. After work of two and half years by teams of artisans from Burhanpur and outside, the house looking like Taj Mahal is finally ready and has become a major draw for low budget tourists who cannot afford to travel to Agra as well as young couples hunting for the ideal location for pre-wedding shoots,"
The house was originally planned to build by 80 ft high but permission was not granted by local authorities and currently, it is made with 55-60 ft height.
The Taj Mahal look-alike house situated in MP has a big hall, four bedrooms, a spacious kitchen, and a dedicated hall for meditation (Dhyan).
The consulting engineer of the Taj Mahal replica house, Praveen Chouksey said "it took around a month for our team for a detailed design study of the Taj Mahal, followed by a planning of a few weeks, guided by experienced contractor Mushtaq Bhai, artisans from Burhanpur and outside accomplished this dream project in two and half years."
Centuries ago, the Burhanpur town of Central India was originally supposed to be the home to the Taj Mahal, which couldn't be built there by the Mughal ruler Shah Jahan, possibly due to technical reasons.
Taj Mahal replica house built by Anand Prakash Chouksey for his wife Manjusha Chouksey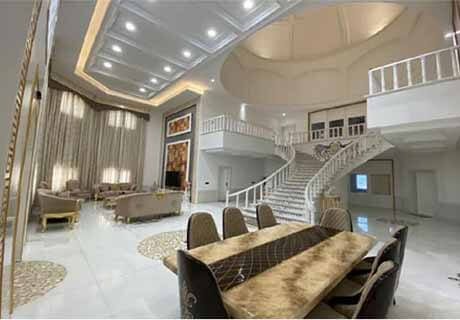 Source | newindianexpress.com
Also see |
Modi Government withdraws all three farm laws on the occasion of Guru Nanak Jayanti
Preity Zinta And Gene Goodenough became parents through surrogacy
John Cena biography Wiki | Net worth 2021 | uploaded MS Dhoni pic | Instagram | Age | WWE | Family And More
Gaurav zone arrested by Uttar Pradesh police in Nidhivan Controversy
Rolls Royce Cullinan price in India | Colours | Engine | Torque